Course Details
Course Code: UKMGC16UAB
Location: Online
Duration: 80 hours
Cost:

£

899.00
Qualification: All modern browsers and devices
Further Details
Course Access: 12 months
Exams Included: Yes
Compatibility: All major devices and browsers
Approved Course:
Includes the Following Courses
The beauty industry offers the opportunity for a satisfying and successful career that can take people around the world. There are many branches in the beauty sector and the more skills someone can offer, the better the opportunities available. This mega-course comprises 4 separate courses and is designed to provide those interested in working in beauty with the comprehensive working knowledge and the skills they need to achieve their dream and make a success of their career. Within this course, students will learn about hair styling and waxing, and the skills needed by nail technicians and make-up artists.
Hair styling
The hair styling course is a comprehensive guide to becoming a stylist. It begins with the history of hairdressing from the earliest historical times, then explains the qualifications needed to train as a hairdresser in the UK.
The technicalities of the anatomy and the life cycle of hair, as well as which parts of the hair determine its colour and texture are detailed, before covering how to handle client consultations and communicate effectively to achieve the best result. This is followed by a breakdown of the tools and products used for styling, and how to use them. A guide to recognising different facial shapes and hairstyles appropriate for each shape is followed by instructions for washing and conditioning hair.
The course also includes step-by-step directions for styling and colouring hair, plus styles for children. Styles for special occasions, plus braiding, and how to use hair extensions are included. This is followed by the importance of hygiene within salons. The final part discusses the practicalities of starting a business, managing costs, and marketing your salon.
Waxing
Waxing is a popular service throughout the world, for both men and women. This course begins by explaining the function of the skin, the anatomy of hair, and its purpose on the body. It covers the benefits of waxing, the different methods that can be utilised to remove hair, and the advantages and disadvantages of each.
The mechanics of conducting a consultation, completing the necessary forms, ensuring a healthy and safe environment, and the importance of maintaining accurate client records is explained. How to create a professional working environment is also covered.
The following section of the course details the different equipment utilised in the industry and the advantages of disposable products. It lists the precautions that should be taken when waxing to prevent issues, and the importance of sanitisation. The next part of the waxing course demonstrates the methods for waxing different parts of the body, including the face, arms, legs, torso, and delicate areas. Finally, it explains various aftercare solutions, and how any problems should be handled.
Nail technician
The nail technician course starts with an explanation of the role of a nail technician, and the anatomy of both the nail and the different layers of the skin. The next section covers the importance of hygiene and effective preparation of the work area. It continues with how to conduct a consultation, offer advice and guidance, and help clients understand how to care for their nails afterwards to prolong the life of their manicure or pedicure.
The mechanics of performing manicures and pedicures, along with how to prepare and shape nails, and how to incorporate hand and arm massages in treatments is included. Acrylic, and gel nails and tips have become extremely popular and these, along with nail art and ideas for designs, are also covered in this course. The importance of health and hygiene of both equipment and workstations is also emphasised.
The last part of this section details some of the practicalities of setting up and running your business, including staffing, employee law, and maintaining accurate records.
Make-up artist
Make-up has been part of human culture for millennia. This course includes some of the history of make-up from the time of Ancient Egypt, the role of the modern make-up artist, and some of the latest trends in the make-up world.
The anatomy of the skin, common problems that clients may present with, and how these can be solved are covered. The functions of different brushes, products and tools are explained, plus how to care for the equipment.
Students will learn make-up styles suitable for different occasions and seasons, plus techniques for brow shaping, and applying eyeliner and false lashes, blusher, and lip products. The particular requirements of make-up for TV, film and magazine work, and creating character looks is also discussed as an additional career option.
At the end of this Complete Beauty Diploma, students will have a comprehensive understanding of the beauty industry and the necessary skill sets to begin an exciting career.
Course Modules/Lessons
What our students have to say…
Well structured, clear, and easy to follow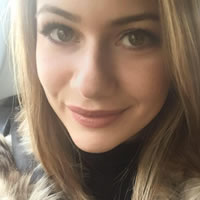 I was bought this Nail course as a birthday present and it has really inspired me as I have always had a passion for Nail design.
This course was well structured, clear, and easy to follow. It ran smoothly and I knew exactly how long I was expected to work on each module.
I learnt all about the business side to the salon as well as physical skills and it was easy to do the exams and get my certificate. I would thoroughly recommend this course or similar ones to other people as it was so flexible and I can now take my new skills straight into the working world.
Lauren Dean – Southampton
Extremely easy to follow
This course is brilliant! Extremely easy to follow and understand. You are able to do it in your own time so there's no pressure.
I've now just completed it and enjoyed the whole experience. I can't wait to get my little business up and running.
Thank you all
Louisa Forsyth – Stratford upon Avon
Super Fun
This course was super fun and so easy to follow.
I loved the convenience of learning everywhere, I could use my phone or tablet and do the course in the car, breaks while at work or in the privacy of my living room. The videos were wonderful and the worksheets helped so much as well… I'm more confident in myself now 🙂
Tara Ireland – Surrey
Extremely interesting as well as informative
This is just what I needed to help me launch my business!
I am so excited to use all I have learned here and apply it to my own venture! Was wonderful learning all the science behind the role and was truly, exactly what I was looking for in a course.
I will be referring back to the materials, it is extremely interesting as well as informative!
Thank you so much!!!
Kirsty Johnson – Welwyn Garden City
The videos were a good way to practise
I've completed the course and have started to prepare myself as a mobile nail technician.
The online course was easy to understand and the videos were a good way to practise step by step.
Many thanks
Fiona Lobley – Brant Broughton
I couldn't have had a better course
This is brilliant, I couldn't have had a better course to do, having the videos as well help so much
Ellis Gardiner – Gloucester
An amazing way to turn your hobby into a nice little money maker
I started doing nails as a hobby, and my interest just carried on growing, I never thought that I would end up qualified!
This is an amazing way to turn your hobby into a nice little money maker and boost your own confidence and knowledge in the process.
Amy Armstrong – Cumbria
Great course which is simple to do
Great course which is simple to do but you get a great qualification in the end, and if you fail a unit it is simple to retake.
Full knowledge of area so it makes it easier to start a business and tells you the legal things you need to know as well.
Charlie Thurlow – Redcar
Enjoyed Every Module
Thank you for the amazing opportunity to be a nail technician! The course is very interesting, helpful and detailed. I have enjoyed every module and very very soon I'll have a certificate! Highly recommend!
Justina Pavliukoviciene – Peterborough
Easy to Understand
Great course worth the money very detailed yet easy to understand and all official with a certificate at the end, it's very interesting and fun.
Cherish King – Milton Keynes
Amazing Course
Amazing course! Clear training videos and everything you need to know to become a nail tech! I'm so pleased I decided to do this. It's put me on track to work for myself and own my own business.
Kelly Goulding – Corby
Highly recommended
I was a little sceptical about doing an online course as I thought it wouldn't be very in depth, but how wrong I was!
Very thorough and covered everything you could possibly need. I trained many years ago and wanted a refresh and this was perfect and enabled me to get my insurance and feel confident being back in the Beauty Industry.
I'm now about to start another refresh course on waxing and can't wait to get going, I will most certainly be back to do more. If you're unsure whether to do an online course, don't be, its a must. Highly recommended!
Sue Pearce – Hoddesdon
I can't stop studying!
I started this course only one day ago and I cant stop studying. The information is very informative. I like the way the course gives you time to practise to get the skill right before you move on to the next subject.
I am looking forward to completing the course so I can start doing the nails properly. Highly Recommended.
Mia James – Hull
Example Certificate
This certificate is to verify that
has successfully completed the
THE COMPLETE BEAUTY DIPLOMA
Daniel Morgan
Head Tutor
Igrow Academy
FAQ's
Who can take the Complete Beauty Diploma course?

Anyone who has an interest in learning more about this subject matter is encouraged to take the course. There are no entry requirements to take the course.

What is the structure of the course?

The Complete Beauty Diploma Course consists of 4 courses:
Each course consists of between 22 and 27 individual modules.
Modules can take from 20 to 90 minutes to complete. You are free to spend as much or as little time as you feel necessary on each module, simply log in and out of the course at your convenience.

Do I have to study the courses in a certain order?

No. You can study the courses in any order you choose. If you want to, you can do one module from a course and then move on to the next course.

Where / when can I study the course?

You can study the course any time you like. Simply log in and out of the web based course as often as you require. The course is compatible with all computers, tablet devices and smart phones so you can even study while on the move!

Is there a test at the end of the course?

Yes. Once you have completed all of the modules for each course there will be a multiple choice test.
The questions will be on a range of topics found within the modules. The test, like the course, is online and can be taken a time and location of your choosing.

What is the pass mark for the final test?

The pass mark for each test is 70%.

What happens if I fail the test?

If you don't pass the test first time you will get further opportunities to take the test again after extra study. There are no limits to the number of times you can take the test. All test retakes are included within the price of the course.

When will I receive my certificate?

Once you have completed your test you can log in to your account and download/print your certificate any time you need it. If you would prefer us to post you a certificate to a UK address, there will be an admin charge of £10 (certificates sent internationally may cost more).

How can I pay?

You can either use your Visa, MasterCard, American Express, Solo cards or PayPal account to pay for the online course. Our site uses the latest SSL encryption to ensure your safety. All payments are handled securely by PayPal.

How long after payment can I begin the course?

You can begin the course immediately after your payment has been received. You will create your login details during the checkout process.
We will also send you an email confirming your login details.

How long does it take to complete the Complete Beauty Diploma course?

We estimate that the course will take about 80 hours to complete in total.

How long is my certificate valid for?

Once you have been awarded your certificate it is valid for life. The certificate does not expire or need renewing.